Catamaran cruise: 5 reasons to take to the sea !
After a period of strict confinement, who doesn't dream of wide open spaces ? To satisfy this thirst for freedom, vacations are an opportunity to escape to new horizons. Infinite and paradisiacal horizons. And what could be more infinite than the sea and the oceans ? Explore them aboard a splendid sailboat or a catamaran with all the comforts of home. You will be sure to spend an original and unforgettable stay.
The reasons ? We tell you about them.
Discover the sea bed on a catamaran
Water as far as the eye can see, marine life under your feet and the sea air in your face… On a catamaran, you are in direct contact with the water and a whole biodiversity that is impossible to see otherwise than on a boat. Whether it is during the journey or while anchored on a coast, you have every opportunity to take to the water. A simple diving mask and a snorkel will allow you to admire magnificent fish, cetaceans and corals. The most experienced can come equipped with oxygen tanks during their cruise.
Without a schedule, far from the earthly fervor, you will disconnect from everything during your Catamaran Cruise or during your trip on a monohull sailboat. Your boat will sail on the water in harmony with its environment, a dream for nature lovers.
Float in incomparable comfort
A catamaran cruise is often worthy of a stay in a comfortable hotel. On board, the living space is incomparable. Cabins in each hull offer true privacy to all sailors. With a private bathroom, vacationers are sure to have some quality time to themselves. Apart from the cabins, the common areas offer optimal comfort thanks to functional furniture, a practical kitchenette and wide benches in different parts of the boat.
Comfortable spaces for a cruise with family or friends. Moreover, this kind of multihull allows a stable and smooth navigation even on a capricious sea. By preferring wide hulls of more than 12 meters, you will feel yourself sliding on the water.
The catamaran is the assurance of a relaxing and luxurious vacation on the waves.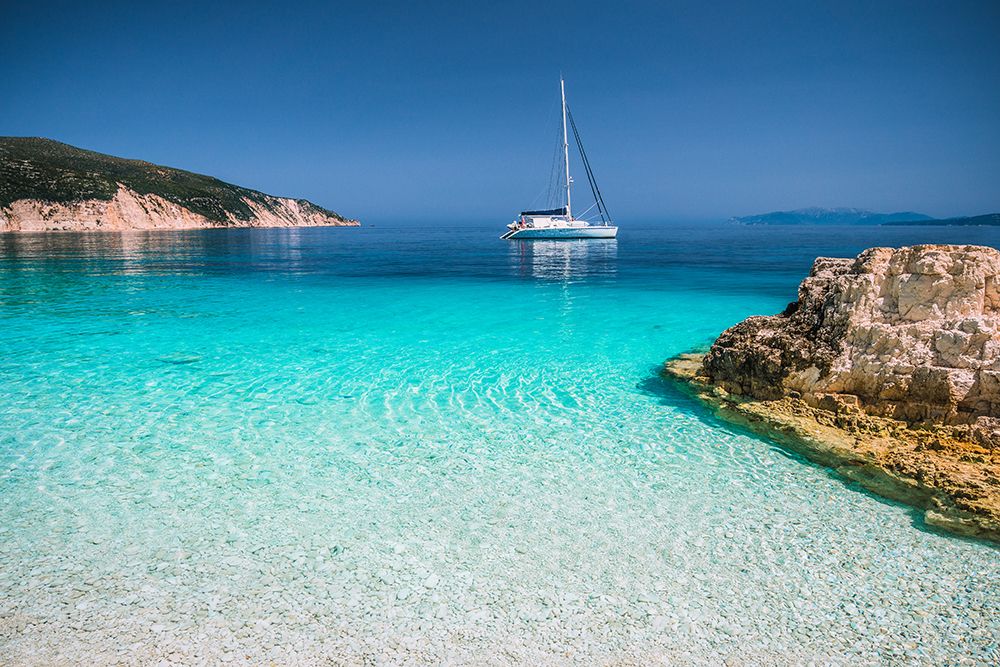 Go to dream destinations with a catamaran
The Mediterranean is a bit of a playground for catamarans. This beautiful sailboat often spreads its wings from the beautiful marinas of the French Riviera or Corsica. From Marseille or Hyères, you could have the privilege of discovering the numerous islets that line the coast or the famous creeks of the city of Marseille. To discover more and more fascinating landscapes, you also have Corsica or the Balearics. From creek to beach, you will sail in a setting of fine sand and warm waters.
If you are in the mood for exoticism, you could offer yourself an excursion on the Caribbean Sea. From island to island, the West Indies will reveal its marine treasures. On the Pacific side, the islands of Polynesia will allow you to make several stopovers according to your desires and the winds.
Lagoons and houses on stilts make the horizon of these places apart.
Take time… to be together
You will find thrills aboard a sailboat or a catamaran. With such a boat, you will travel long distances and multiple landscapes. So many unforgettable moments made to be shared. The decks and pontoons of such boats and the space they offer force complicity. Everyone crosses paths while having his or her own private cabin.
In short, with family or friends, you are sure not to be bored. Evenings on board under a starry sky, canoe trips to all the nooks and crannies or diving from the deck of the boat, will make your vacation on the water an unforgettable memory. All the more imperishable when it will be at the end of the world. Vibrate together at the edge of the unknown islands of the West Indies for a colorful vacation.
From Barbados to Saint-Martin, you will dive into a very warm Creole culture.
Be pampered by a professional skipper
A catamaran cruise is the assurance of a tailor-made vacation. You choose your destination, your boat, the length of your stay, your activities and the members of the crew. You have two options: leave with family or friends or leave with a skipper or a full crew. So, if you are not an experienced navigator, you can always trust an experienced navigator who will take you where you want to go while taking care of your safety.
And to live every second of your cruise to the fullest, there is the possibility of hiring a hostess who will keep your floating residence clean while making sure that you don't miss anything. Rental agencies are the best intermediaries to choose not only the boats but also the dedicated staff. With professionals at your service, you will be real pachas on the water.
What better option than this marine escape to fully recharge your batteries?