The wines of Fitou : Red is the new Black !
Too little known appellation of the Languedoc, the AOC Fitou did us the honor recently to present itself, around its most beautiful bottles, in a very nice place which is very close to the Place de la République.
If you are reading this site (and we are not too bad in knowing our readership), you can have 2 pictures of Fitou. Either you don't know what these wines are, or you think that they are very strong red wines to be opened after 15 years with a game in sauce from Uncle Gérard. In the 1st case, you have everything to discover. In the second, you have everything to rediscover !
Already, a quick presentation of the forces at work: Fitou is the oldest appellation of the Languedoc. 100% dedicated to red wines on 2 300 hectares. The majority grape variety is the almost local carignan, but you can also find some more international grape varieties like syrah.
Contrary to popular belief, the wines of Fitou are not (anymore) ?) overpowering wines, hard to drink. If we remain of course on southern wines that fit perfectly with a nice piece of red meat (yum), many areas are working today on wines with finesse, fruit aromas sometimes exuberant. Often silky in the mouth, they present a good balance between freshness and power.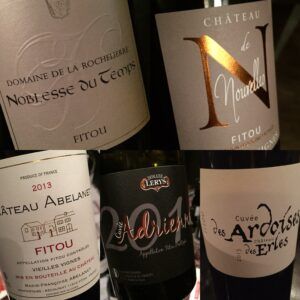 Our favorites ? Without hesitation the castle of News that perfectly symbolizes this new style of the appellation. Domaine Lerys and its Adrienne cuvée is also perfect to discover this region, and these wines with a lot of finesse.
If you want more power, chocolate notes and morello cherries, it's the side of the cuvée des Ardoises of the Château des Erles or the Noblesse du temps of the Domaine de la Rochelierre that we will turn to.
In any case, it is an interesting appellation to rediscover, producing beautiful wines to drink now as well as to age, and which will go perfectly with your meats and charcuterie platters…while continuing to match with the game of Uncle Gerard !